"Machine Gun Lou" Butera was born in Pittston, Pennsylvania.  He learned to play at his father's pool room in the small coal-mining town.  After watching BCA Hall of Famer Erwin Rudolph in an exhibition, 14-year-old Lou decided to devote his life to pool.  He was runner-up to Irving Crane in the 1972 World Championship in Los Angeles.  In 1973 he defeated Crane in the finals of the same event to win his first World Championship.  Nicknamed "Machine Gun Lou" for his rapid fire style, Lou recorded a 150-ball run against Allen Hopkins in just 21 minutes in 1973.  Butera has since won numerous titles.  In 1986, he was inducted into Billiard Congress of America (BCA) Hall of Fame, and since remains a serious threat to challengers.
Lou Butera is a pretty distant relative of mine (his father and my grandfather were second or third cousins), but he's still family, and I'm glad to see him doing so well.
The following article was taken from The Insider's Guide web page under the Las Vegas, Parks and Recreation section.
Lou Butera: Pool Shark to the Stars
As a Hall of Fame pool player and former world champion, Lou Butera dislikes the term "pool shark."  Even though, the name of his new pool hall at 3650 S. Decatur Boulevard is Lou Butera's Pool Sharks Billiards & Entertainment Center.
"I never liked hustlers or pool sharks — they give the game a bad rap," Butera says.  "But those are just some of the stigmas that we can hopefully get rid of and make the game more respectable."
Making the game respectable has been a labor of love for "Machine Gun" Lou Butera, so-named because of his rapid-fire style of play, a style he used to earn the world record for running 150 balls in 21 minutes.  The former world champion in straight pool has also won dozens of tournaments, such as the Midwest Open and Tournament of Champions, and holds several other records for running consecutive balls.
Butera has served as a consultant, choreographer and technical advisor on numerous TV shows and feature films, and he has taught celebrities the proper way to play pocket billiards.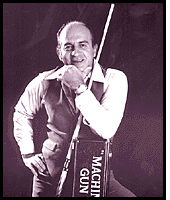 Former world champion
"Machine Gun" Lou Butera owns
a billiards hall in Las Vegas.
Last year, for instance, actress Nicole Kidman bought five two-hour pool lessons (at a cost of $3,750) for her husband, Tom Cruise, whom Butera calls a "nice young gentleman" with a "fairly nice game."  He has also taught the likes of Arnold Schwarzenegger and choreographed Martin Sheen and Michael Douglas playing pool in a scene from the movie American President.  Butera has worked on TV shows such as The Fall Guy, Married With Children and Living Single.
A 59-year-old native of Pittston, Pennsylvania, Butera played professional pool for about 30 years.  He's been married to his wife, Caroline, for 40 years, and they have had seven children together.  Butera moved to Las Vegas in late 1996 after living in Southern California for more than 20 years.  Although he would never return to the grueling pro tour, Butera occasionally plays in a senior tournament or makes a special appearance.  While he likes to keep his shooting skills sharp, Butera's current passion is to putter around his new pool hall, taking care of customers and making minor repairs.
One of the first things he did was put up a sign, "No foul language." Since then he's realigned and resurfaced all the tables, installed new pockets and purchased new balls and cues.  He's also replaced the pool hall's outdated lighting system.
"I want to make my pool hall the nicest, friendliest, family-oriented pool hall in Las Vegas," he says.  He will also take time out to offer free tips and impromptu lessons.  And sometimes he'll dust off his pool cue and bring "some real hotshot" back to earth.  After all, there's room for just one shark in Lou Butera's Pool Sharks Billiards and Entertainment Center.