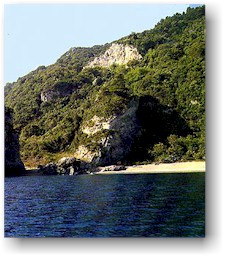 Évvoia
My grandfather, George Michael Papamichael, was born in the town of Bezanos on the Greek island of Évvoia [ev-E-a] (also spelled Evia, or known as Euboea [yoo-BE-a]), to Michael Papamichael and Antonía Sfarnas Papamichael on July 2, 1900. One of thirteen children, my grandfather had to quit school in 5th grade, and travel to Athens with his brother Pete in order to work and help support the family.
At the age of 15, he and Pete left Athens for America in the hopes that they'd make more money to send home. In 1915 they entered Ellis Island where their name was naturalized to Pappas.
Eventually he ended up in Pittston, PA where he lived at the YMCA. In Pittston, he ran a lunch room for a while, then moved to Harding, PA in the late 1920s. There he opened a small store and gas station. At that time, my grandmother, Harriet Sebastian Marcy, began working for him. They fell in love, and married in May of 1931. Shortly afterwards, my mother Antonia (Antoinette) was born.
Around that same time, the store burned down, so they set up another one across the street. He owned that store until, when my grandmother was pregnant with my Aunt Margaret, the second store burned down. At that time, in 1933, he started the privately owned Pittston Falls bus line. Besides giving people transportation between Pittston and Falls, PA, his bus gave children living between Harding and Falls the chance to go to high school in Pittston; an opportunity they would not have had if it weren't for the Pittston Falls bus line. He also advertised war bonds on his bus during WWII until 1945, when the war ended. This is also the year that my Aunt Penny was born.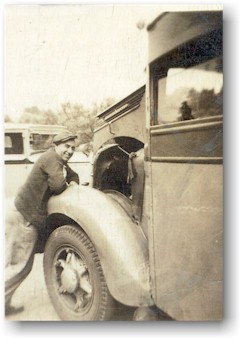 My grandfather leaning against
his Pittston-Falls bus (1939).
In 1957, my grandfather sold the bus line and opened The Corner Cupboard lunch room. This lunch room was known for being the only lunch room in Falls to sell soft ice cream. My grandparents owned and ran The Corner Cupboard until 1959 when tragedy struck.
On January 30, 1959, my grandparents set out to the lunchroom. The streets were icy, and my grandmother asked if she could drive. The car lost control on the ice and ran into a guardrail, and since this was before seat belts were mandatory, my grandmother was thrown from the car, hit her head on the rail, and broke her neck. She did not survive the accident.
Also on that day, as my grandfather went to help my grandmother, he slipped on the ice and broke his ribs. When, after about five months, his ribs still were causing him pain, an X-ray revealed that he had cancer of the bone marrow. Then, on July 18, 1959, he passed away.
They are survived by three daughters, eight grandchildren, and thirteen great grandchildren.